Share
If you can afford it, a yoga retreat is a seriously indulgent treat for the mind and body. And could rejuvenating and refreshing be any better than on or nearby to a gorgeous beach. Whether an experienced or newbie yogi, here are some coastal yoga retreats that are really worth considering saving your pennies for:
---
1

Viceroy Hotels and Resorts, Zihuatanejo, Mexico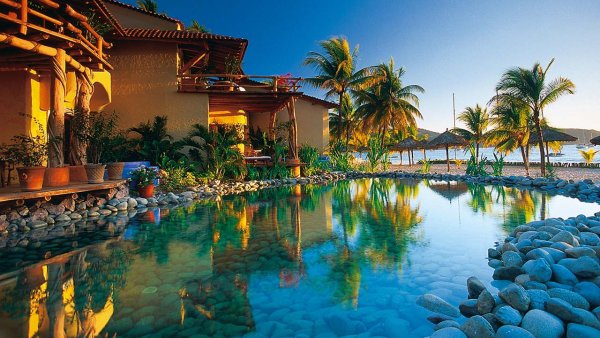 A stay at the Viceroy Hotel Zihuatanejo comes with an all-inclusive, one-price package that includes drinks and à la carte meals. Formerly known as The Tides Zihuatanejo, this romantic yoga retreat boasts one thousand feet of private beach, swimming pools, eleven luxury guestrooms and thirty-five suites. Renowned for its daily yoga and wellness activities, its laid-back ambience and stunningly beautiful setting, the resort is part of a small Mexican fishing village and one of the finest yoga retreats in the world. Using only highly experienced and well-known yoga instructors, this retreat has Hollywood A-lister appeal.
Where will you practice yoga? At the waterfront, overlooking the Pacific Ocean, with verdant mountains as a backdrop – lovely!
viceroyhotelsandresorts.com
---
2

Luna Lodge, Corcovado National Park, Costa Rica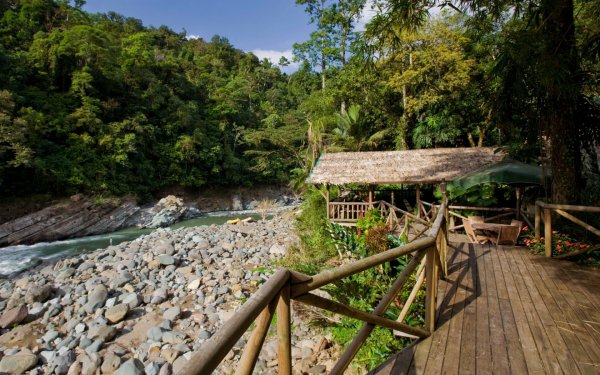 Located at the edge of the gorgeous Corcovado National Park, the Luna Lodge Retreat Center is well away from the regular holiday bungalows. Essentially sitting on a man-made platform overhanging a hillside, the Retreat Center overlooks lush rainforests brimming with exotic wildlife. Unlike other yoga retreats, Luna Lodge aims to be environmentally friendly and promotes sustainable tourism. This is "the most biological intense place on Earth", said National Geographic, and the activities offered here reflect the importance of the landscape. With more than 1,600 square feet of open-air space, the Retreat Center offers yoga, massage therapy, Tai Chi, Nia and aromatherapy.
Where will you practice yoga? Directly above the tree-tops of the rainforest; rub the sleep out of your eyes and be greeted by awesome views of the Pacific Ocean and the eerie sounds of Howler monkeys.
lunalodge.com
---
3

Villa Ananda, Punta De Mita, Mexico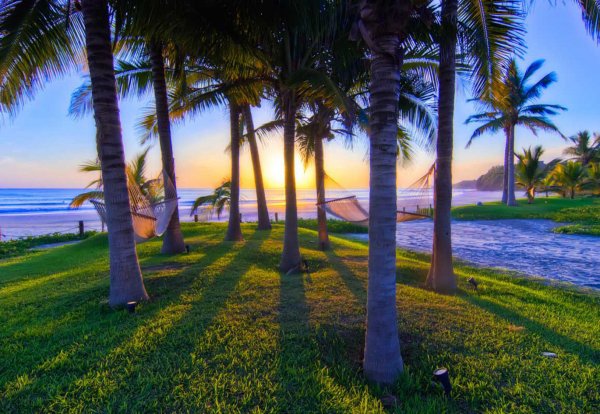 Mexico's premier Ayurveda retreat and luxury spa offers a not just an insight into the ancient Indian natural healing of Ayurveda but also power hikes, massage treatments and daily yoga in a glorious setting. This is one of the world's finest yoga retreats and total relaxation sanctuaries. Achieve health and inner balance, rejuvenate and detoxify your body. Activities include nature walks and workshops for healthy eating.
Where will you practice yoga? In a gorgeous natural setting with stunning views.
villaananda.com
---
4

White Lotus Foundation Retreat Center, Santa Barbara, California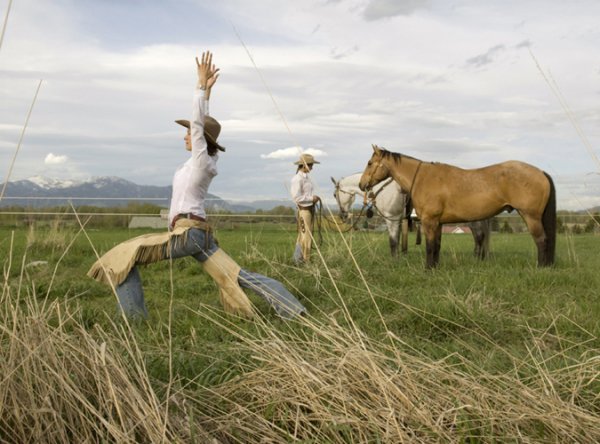 Who wouldn't enjoy sleeping in yurts, waking up to awe-inspiring canyon views? Founded in 1967 by Ganga White, one of California's best known yogis, the campus sits in the mountains at the edge of Santa Barbara and offers year-round events, special deals and workshops. Enjoy hiking, climbing and horseback riding while you're there.
Where will you practice yoga? Overlooking the Pacific Ocean.
whitelotus.org
---
5

The Yoga Lodge on Whidbey Island, Washington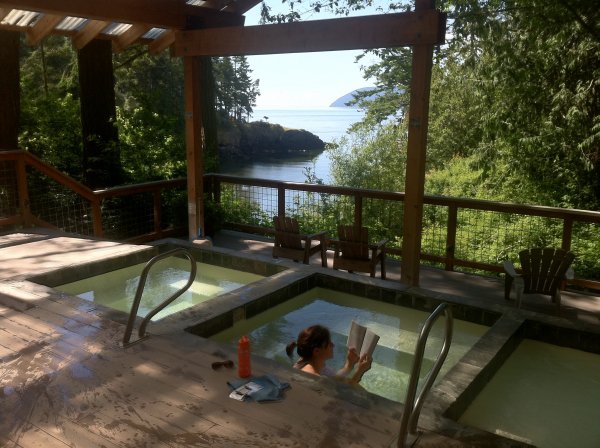 For those looking for an inexpensive and comfy getaway the Yoga Lodge on Whidbey Island is ideal. Located 25 miles from Seattle, the 5-acre retreat is easy to get to and enjoys a lovely forest setting. Activities include hiking in the woodlands and forests, where abundant wildlife and lush vegetation await discovery.
Where will you practice yoga: Under the trees overlooking Puget Sound
yogalodge.com
---
6

COMO Shambhala Retreat at Parrot Cay, Turks & Caicos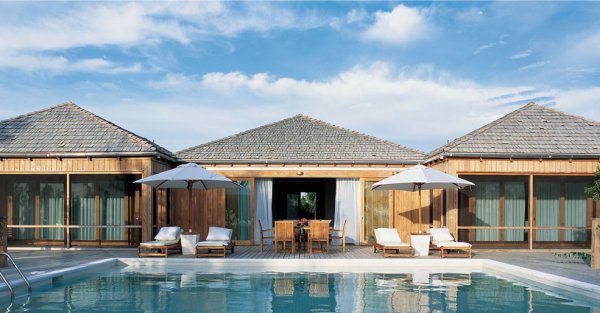 This luxury resort is part of the Como Hotels chain and located on its own private island, offering relaxation-hungry guests 1,000 acres of unspoiled nature, a mile-long beach with golden sands, world-class cuisine, holistic therapies, diving and, of course, yoga sessions and spa treatments. Guests can opt for five hours of daily yoga or Pilates practice. Activities include mostly water sports like swimming, surfing, snorkelling and scuba diving; also Ayurveda, aromatherapy, and relaxing in a Jacuzzi garden or Japanese baths.
Where will you practice yoga? In an open-air yoga studio boasting stunning island views into every direction.
comohotels.com
---
7

The Body Holiday Resort, St. Lucia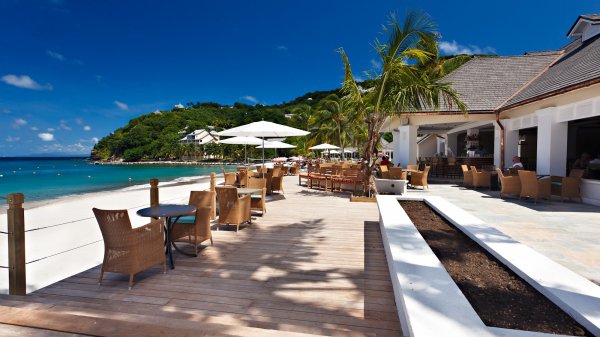 This is one of the most popular yoga retreats in the Caribbean, a great all-round spa that offers relaxation for soul, mind and body. Their wellness centre offers a wide range of treatments and the resort boasts five fabulous restaurants and great bars. Praised every year by Condé Nast Traveller readers, the Body Holiday Resort was awarded the accolade of "Favourite Overseas Spa Retreat in the World" in 2011. Guests can enjoy dancing, golf, windsurfing, diving, biking, kayaking, sailing, archery, volleyball and much more.
Where will you practice yoga? In a range of locations, some overlooking the ocean. There are hundreds of wellness, yoga and fitness options on offer.
thebodyholiday.com
---
8

Kamalaya Koh Samui Wellness Sanctuary and Holistic Spa, Thailand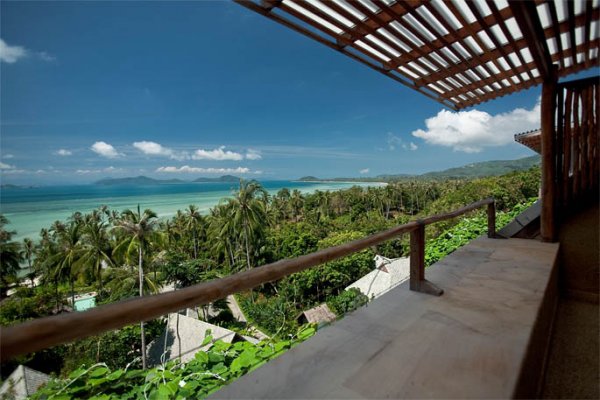 One of the most beautiful and well established yoga retreats in Thailand, the Kamalaya Koh Samui Wellness Sanctuary and Holistic Spa offers total relaxation, the chance to detox and to learn about fitness and weight control at the same time. A team of international naturopaths can offer guests individual tailor-made health programs. Get fit at the Shakti Fitness Center, take a herbal steam bath in a cavern, relax in a plunge pool or visit the retreat's art gallery and library. Go for a walk in the palm forest that surrounds the retreat.
Where will you practice yoga? Around a Buddhist monks' cave, on an open-air platform overlooking the beach and ocean.
kamalaya.com
---
9

Las Olas Surf and Yoga Retreats, Sayulita, Mexico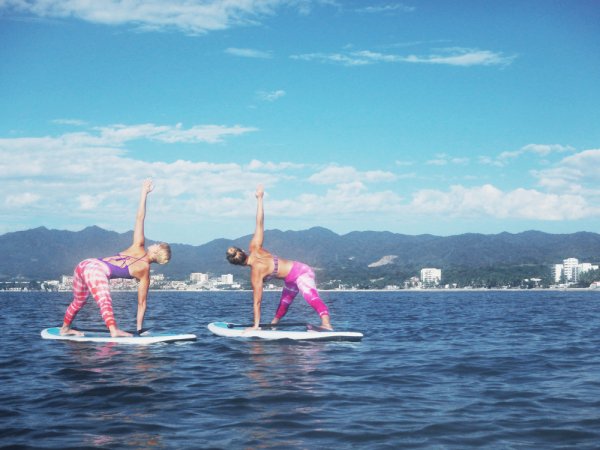 Now in its 18th year, Las Olas Surf Safaris is the world's leading surf camp for women and among the premier yoga retreats in the Americas. Combing fun-package surfing with the spirituality of yoga, Las Olas Surf Safaris aim to "make girls out of women". The resort has been featured widely in magazines, including Newsweek, Oprah Magazine, Time and Travel & Leisure. The resort offers a wide range of activities and sits in a gorgeous seafront location. Surfing, relaxation, making new best friends...what's not to like?
Where will you practice yoga? Every morning, you and fellow surf-babes will greet the day at the edge of the Pacific Ocean, wiggling your toes in fine white sands.
surflasolas.com
---
10

Suncokret Body and Soul Retreat, Hvar Island, Croatia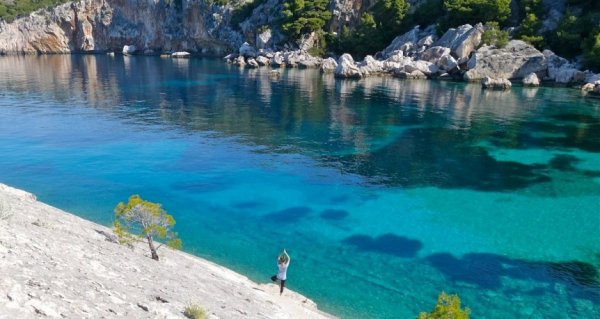 Named as one of the world's 23 best coastal yoga retreats by Costal Living Magazine in 2010, the Suncokret Body and Soul Retreat was founded by an American yoga instructor and her husband. Located just off the coast of Croatia, this beautiful retreat specialises in yoga and other holistic practices. Enjoy boat trips to Brac Island, picnics, shopping trips into ancient Hvar Town, painting lessons, scuba diving, climbing, hiking, cycling, wind surfing, island excursions with scooter or car rental.
Where will you practice yoga? In various locations, at the beach, under shady trees or on a sunny terrace overlooking mountains.. Suncokret means sunflower in Croatian, and just like the sunflower, the retreat's activities turn towards the sun throughout the day.
suncokretdream.net
Is it your dream to strike a pose at a gorgeous yoga retreat?
More